WebTop
Get more from the WebTop cloud services
WebTop is a single sign-on, cloud-based workspace solution. WebTop features the flexibility, affordability, security and mobility end users are looking for from a cloud service solution. WebTop is vendor-agnostic, requires no capital investment, and supports a "bring your own device" (BYOD) work style. Users can access all their third-party applications, email, contacts, calendars, and more through a customized, personal workspace. Our two U.S.-based East and West Coast data centers provide an inclusive disaster recovery and backup plan within an encrypted Tier-III environment.
Why should you WebTop?
Mobility - Bring your own devices and work on-the-go whether from the office, the conference room, or really anywhere there's an internet connection. It's the perfect solution for today's mobile, device-happy workforce.
Security - Do you have concerns about data security? We don't. That's because we built, manage, and maintain our own cloud infrastructure within Tier III-IV data centers within the U.S. All data is encrypted before even leaving your premises.
Data backup and disaster recovery - Don't let a local or natural disaster, hardware failure or security breach compromise your business continuity. WebTop future-proofs your network by storing data in fully-redundant data centers located on independent East and West coast power grids.
Productivity - WebTop users are more productive because they have access to their data anytime, anywhere, on any internet-ready device. So if a laptop crashes, they can pick up where they left off on another machine or device; no problem.
Savings - flexible, pay-as-you-grow plans allow you to scale up or down to meet your business' current workforce. Cloud infrastructure also eliminates costly server refreshes and maintenance and comes with inclusive, automatically updated Microsoft Suite.
Third-party applications - WebTop supports the same third-party applications supported by Microsoft terminal servers. Therefore, your accounting, sales, and other proprietary software sits right alongside Microsoft Office and Outlook.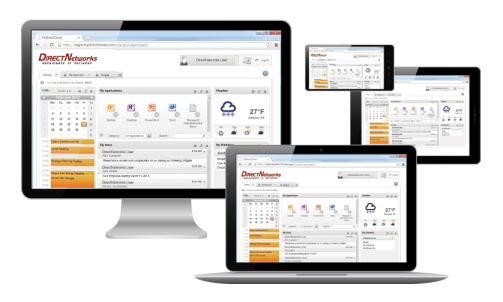 Our aim was to break down the barriers that place constrictions on traditional computer networks – and we're confident we've done that! No matter whether your company employs 20 people or 200 we give you the ability to be able to work from wherever you are, on your time schedule. In addition, on-premise servers can be expensive. They require refreshes every few years, constant software upgrades, and on-site maintenance.
Many of our clients have found that they saved 20-30% over their traditional IT infrastructure by switching to a cloud environment.
Whether you're in a coffee shop around the corner from your office or on the other side of the globe, WebTop gives you the ability to carry your business in your pocket or in your laptop bag. We wanted something easy-to-use, cost effective and secure. Allow us to introduce the 3rd Network Revolution.
WebTop from DirectNetworks is:
A virtual workspace - put your work in the cloud and your office in any device. All you need is an internet connection.
A leveller - small businesses have the same advantages as large enterprises thanks to support for hundreds of apps and almost any Internet-ready device
WebTop from DirectNetworks is a platform designed to meet the needs of modern, thriving businesses. WebTop is user-friendly, mobile, great for your bottom line, and safe. We took our business to the next level; now it's your turn.
It's time to help your business reach dizzying heights.
It's time to try WebTop by DirectNetworks.