SAN & Virtualization
Better Data Management, Easier SAN Administration and Investment Protection
Achieve faster response times and lower your total cost of ownership with data center and virtualization strategies designed to match your workloads. From storage, networking, and servers to software and beyond, our flexible modern architectures span a broad technology portfolio, delivering a distinct advantage over siloed vendors who work inside only a single domain.
Over the last 11 years, we have found an excellent partner in Direct Networks Inc. Their knowledge and expertise in Cisco, Microsoft, SAN and VMWare environments have helped us streamline our IT operations and provide a solid infrastructure for our organization.. Direct Networks is committed to ...Read More
Eric C.
Director of IT
Johnson Health Tech
With certifications and partnerships like Dell SAN, Citrix, VMware, and Microsoft, we help you achieve your network goals for a SAN or storage server, applying solutions to your networks, storage, and servers and applications. We work with customers to build private clouds, Virtual Desktop, and Thin Computing Environments, while reducing IT costs, empowering staff collaboration, and extending the life of IT assets. With the new revolution in mobility computing, a good SAN and Virtualization partner is now more critical than ever before.

Dell All Flash or Hybrid Storage Arrays
Does your organization need High I/O for Applications, Virtual Desktops, or Large Databases? Do you feel that flash storage is out of your budget? Think again. Find out how our enterprise Flash and Hybrid Flash SAN solutions have redefined storage economics and tripling transaction speeds, with up to 95 percent lower latency and decreased data center footprints within your budget. Don't get locked into an all Flash environment or invest in consumer-grade flash drives with a high failure rate, contact us today to learn more about what Dell Storage can do for your organization at an affordable price.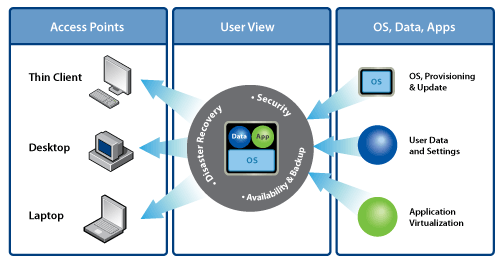 VMware and Citrix Software-Defined Storage
It's time to design your data center around your workloads. Break free of old, costly models that bind you to proprietary solutions and dictate your configurations. Our adaptable, software-defined storage solutions separate hardware and software, giving you freedom of choice and access to storage innovation as it happens — no more waiting on the next hardware refresh to get the latest, most intelligent software features you need to automate your workload management.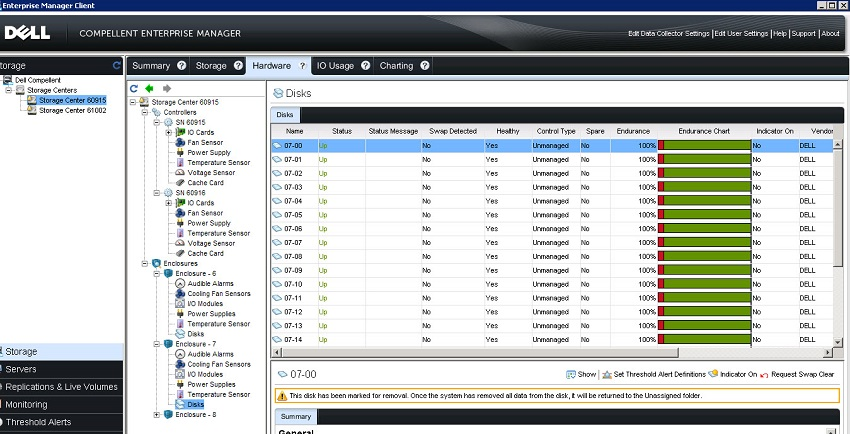 Easy To Administer SAN Software Suites
Move beyond simply storing your data, to actively and intelligently managing it. Dell has powerful storage software with built in automation, optimization, and protection for data throughout the life cycle. We help many SAN administrators get the most from their SAN investments through effective software tools and administration training classes. Dell's SAN suite covers the bases for efficient SAN utilization.
Thin Provisioning delivers better performance with less hardware
Data Progression drives down the cost of hardware and tiers storage
Dynamic Capacity maximizes data planning and utilization for cost effective growth
Snapshots protect data and provide install recovery capabilities
Data replication provides built in business continuity and disaster recovery
Fast Track provides fast drive performance on lower speed disk
Investment Protected SAN Hardware
Not every business uses storage the same way — different businesses need different storage products and configurations. Our SAN lineup includes all in one cost effective SANs or Modular SAN solutions that allow for cost effective growth and easy expansion. Whether you're looking for intelligent, automated storage solutions, high-bandwidth or high-capacity storage arrays, enterprise or small storage environments, we have a storage solution to fit your needs.
Dell Equalogic Storage PS Series
Dell Compellent Storage SC Series
Dell Storage XC Series Software-Defined Storage

Award Winning Support Services
Your data is one of your organization's most valuable assets, which makes supporting and protecting the systems that store your data a high priority. According to hundreds of customers, supporting your storage infrastructure is something Dell™ Compellent™ does better for you. Dell Compellent Copilot Support™ goes beyond traditional support offerings by identifying and resolving problems before they happen. And by combining the power of both Copilot and ProSupport, we can tailor the perfect combination of proactive processes, professional expertise and worldwide reach to help ensure your complete satisfaction. While your opinion is what counts, we're proud to mention that our support has received glowing recognition. In fact, Copilot Support was recently voted best support by Storage magazine, and InfoPro's independent survey of IT end users gave Copilot the industry's highest marks.
Comprehensive SAN Installation and Upgrade Services
DirectNetworks has been installing, upgrading, and maintaining Storage Area Networks for all sizes and types of organizations for over ten years. With certifications and experience working with Dell, Vmware, Citrix, Microsoft, and Cisco storage, DirectNetworks' SAN Teams help clients get the most from their storage investment. With personalized services, starting with planning through implementation that is project managed on time and on budget, DirectNetworks' SAN Teams work closely with clients to provide the best SAN experience possible. For organizations that need additional ongoing SAN expertise, DirectNetworks can provide outsourced SAN administration and managed services to augment staff needs.
See how SAN & Virtualization by DirectNetworks can help you spend less, achieve more.