Help Desk
No more frustrating technical IT support calls
Not all help desks are created equal. DirectNetworks prides itself on staffing our help desk with dedicated, knowledgeable individuals. Each member of our remote support team has passed through a rigorous hiring process, including background checks, to ensure top quality of service to our customers. We strive to be more than the average help desk, we are a customer service desk first and foremost.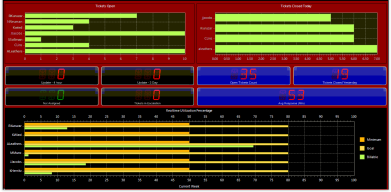 We are continuously working to improve both our service and our efficiency. Tickets are closely managed through Service Level Agreements (SLAs), Key Performance Indicators ( KPIs), and a series of scoreboards. The team receives rewards for keeping on top of their tickets and our customers get better and timelier service.
When a customer signs an agreement with DirectNetworks, they get more than an anonymous voice on the other end of the line. Each contract customer is assigned a team of remote help desk engineers and onsite support needed engineers as needed who know their network, infrastructure, and business. DirectNetworks is local IT support provided by people you know and trust with your network. We even named our teams after our favorite Madison lakes: Monona and Mendota.

You can also forget about frustrating wait times and being put through to countless people. It's simple: you call our help desk, we'll offer you technical support, and you get to maximize your productivity and limit the time you're out of action.
Help desk services from DirectNetworks are:
Local - our help desk staff are located in the Madison, WI.
Expert - we're qualified and we know what we're talking about
Flexible - no matter whether you have 2 employees or 200, we can help
Friendly - we understand you want an accessible help desk experience. We work hard to hold the geek speak and provide good customer service
Your organization relies on your IT to work and with help desk support from DirectNetworks our rapid response times and 24x7x365 support ensure that your business will be finally operating to its full potential - all day, every day.
Experience the DirectNetworks Help Desk Difference