IT Support
xPulse: IT support YOUR way
Sometimes outsourcing is a good thing, especially when it allows you to focus on and grow your business. That is why DirectNetworks is your source for IT support. Our xPulse solution monitors and maintains your network, so you don't have to.
xPulse explanation video
Our managed IT support not only saves you time, it saves you money. Staffing an IT department to handle day-to-day network issues is a great drain on your gross salary and administrative budget. With xPulse IT support, we take care of your networks' daily maintenance and you can dedicate your internal staff towards developing your business.
Click on the icon for more detail on these services
Direct Networks' xPulse provides you with the benefits of a full IT department – at a fraction of the cost! Your xPulse IT team includes remote help desk engineers, 24-hour staffing, IT consultants, a purchasing agent, onsite engineers, and a compliance team. Our virtual CIO and IT advisory services guide your business through the minutiae of comprehensive IT support, including upgrades, audits, and road maps for the future. Our team corresponds with vendors on your behalf, building and maintaining those relationships key to your business' success. xPulse also includes full management of your licensing and maintenance contract statuses, so you're always up-to-date.
We have worked with DirectNetworks for over 10 years using their xPulse Managed IT. They have been a great IT partner and always been there for IT Support.
Jennifer W.
General Manager
Capitol Coffee
Some important features you can expect are server, device, and infrastructure care; email and messaging security management; monthly executive reports with a network; and daily IT support and network management.
Monitoring and management are just the basis of our xPulse service. Our additional bundled services listed below provide a full complement of solutions to meet our customers' complex IT needs and goals. We've made xPulse the core of our business because exceptional, comprehensive IT is a critical cornerstone for our customers' success.
IT Support from DirectNetworks provides you with more reliable performance and more predictable expenses. That means you get more value from the technology you've already invested in, while reducing the total cost of IT problems and the resulting downtime.
With xPulse Managed IT Support you can expect:
Localized help desk support - We want you to feel that your help desk team is right down the hall. We do this by getting to know you and implementing a strategy that keeps your systems running efficiently.
A true IT department - IT Support from DirectNetworks means you have a whole team at your disposal. This means primary, secondary and help desk engineers, a design engineer, a service manager and an account manager - not just one IT guy.
No more unpredictable downtime - xPulse proactively monitors your network 24x7 and alerts our operations center if there's a pending problem or equipment down.
Cost savings - We leverage remote support to solve problems quicker, lower energy consumption, and reduce your overall IT support cost.
Productive staff and management - xPulse takes away the management nightmares of your IT department, keeping your network users productive
Bundle xPulse Services and Save
DirectNetworks knows that IT isn't a one-size-fits-all solution. Our xPulse solution covers the support basics our customers are looking for. In addition, we offer a host of additional bundled services that allow our customers to customize their IT services to fit their company's needs. These includes offsite backup and disaster recovery, VoIP management, mobile device management, web filtering, scheduled, banked, and project engineer time, and outsourced CIO. On the links below, you'll find detailed information on some of the options available for bundled pricing.
Additional bundled services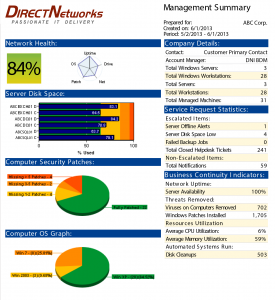 It's time to get the support that your company or organization deserves.